which one is bigger? (a) 7/11 (b) 8/12 (c) 9/13
2 Replied
ABCD is a square. What is the angle measure of AEF?
2 Replied
Given, Triangle XY = XC , AB || XY and angle XCD = 30 degree. Find value of angle BAC. 
3 Replied
A person was asked to toss a coin ten times. He did first two toss and get head both the times. What is the probability that he get head...
1 Replied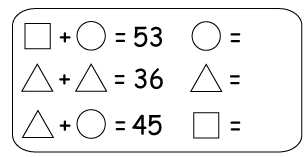 Find the value of Δ and O . 
3 Replied